Hydrogen-powered tunnel oven designed to improved sustainability
October 6, 2023
By Bakers Journal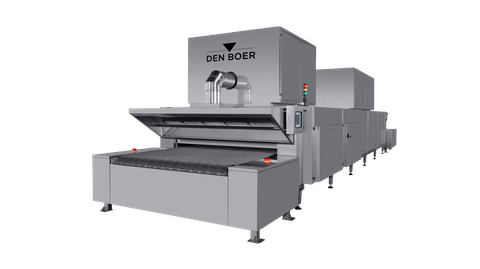 AMF Den Boer has introduced its hydrogen-powered Multibake Vita tunnel oven featuring the company's patented hydrogen burners.
The oven does not cause any direct carbon dioxide emissions, with the only byproduct of baking being water, the company said.
The system is available in several configurations, including grids for sheet pans, mesh belts and stone plates for pizzas, flatbreads and a wide variety of other products.
It is designed to reduce your carbon footprint, improve cost savings, help you prepare for future growth and achieve your sustainability goals.
All existing Den Boer hybrid ovens are hydrogen-ready and can easily be converted to use fuel. The oven is available for testing at AMF's Innovation Centre in Gorinchem, Netherlands.
The oven is designed for medium to high-capacity bakeries and food plants producing soft bread, buns, artisan-style bread and pastry.
---
Print this page