'Why wouldn't I belong to this association?' Notes from the BAC's Executive Director
October 4, 2023
By Martin Barnett, Executive Director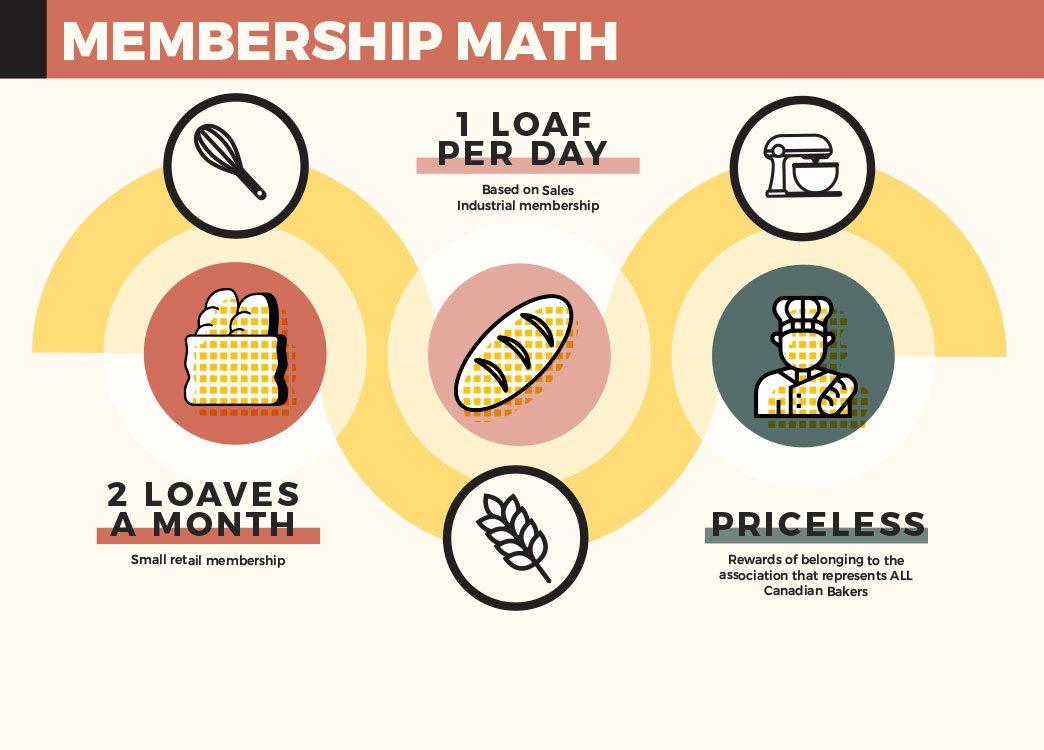 I often hear, "Why should I or my company join your association?" To answer this question, we have developed materials that explain our mission, vision and strategic plans. Find these at https://www.baking.ca/membership/benefits-of-membership/
A question I would like to hear more often: "Why wouldn't I belong to this association?"
I have heard non-member concerns that the BAC is a club for salespeople who like to play golf. Yes, local chapters organize events, and often the heavy lifting is done by our allied members: let's thank them for this. Bakers, because of their work schedules, are often unable to contribute much to event planning, yet they benefit greatly from these events. Every cent of profit raised, even at the golf-club dinners, goes back to support students enrolled in baking and pastry classes. Some scholarship recipients have said they do not see the point of being a member of the BAC. I hope that one day, they will see the value of supporting younger versions of themselves. 
We trust other professionals, like dentists, doctors, electricians and pharmacists, because we know they have been trained and certified. However, there is a lack of appetite to celebrate, or even insist, that the people who feed us have similar professional credentials. The BAC is committed to elevating the craft of baking in Canada: we financially support baking programs and students because their credentials and their passion lift us all.  
"The BAC is just for the big industrials." I hear this as well. Of course, the support of the larger bakers is important. However, the concerns of these companies and the resources they offer to help us advocate with the government on major industry challenges affect the whole industry. These concerns could be labour shortages, supply-chain issues, sustainability, labelling and allergen management as well as other local and regional regulatory issues. Their support also helps us facilitate local educational events of interest to all bakers.
The reverse of the last paragraph is also stated: "Our company is too big for the BAC; we handle all our regulatory concerns internally or through our offshore head office." Or, "We cannot be seen in the same room as our competitors." Our response is to point to some pretty big companies that started as one-person operations in Canada. These companies are successful due to the support of Canadian consumers and industry peers. As for canoodling with competitors, we have very strict rules regarding statute compliance that limit discussions of sensitive competition-based issues. 
"What's in it for me?" Again, I would point you to the membership benefits page. For a small enterprise, some of our corporate partners offer deep discounts on card-processing fees, business insurance access to group-benefit plans, and discounts at events. Sometimes the discounts will pay for your annual membership in a month. For our bigger members: there are discounts to exhibit at Showcase, our annual trade show and the only opportunity for bakers, pastry chefs, chocolatiers and artisans to come together, nationally. 
For students: A free membership while you are in a full-time or apprenticeship program, and opportunities to meet with established businesses and become part of the industry that is your future.
As you can see by the graphic, the cost to become a member is negligible compared to your sales and all of a company's personnel are also automatically eligible.
The most persuasive reason to become a member is this: a strong association benefits us all. There are resources for multiple projects, support for the whole baking industry, financing and input on national, regional and local initiatives and development of new members who will inherit the industry and keep it strong. Strength lies in numbers; as our membership grows, we all benefit, together.
Martin Barnett, Executive Director
Baking Association of Canada
mbarnett@baking.ca
---
Print this page