April 20, 2023 By Colleen Cross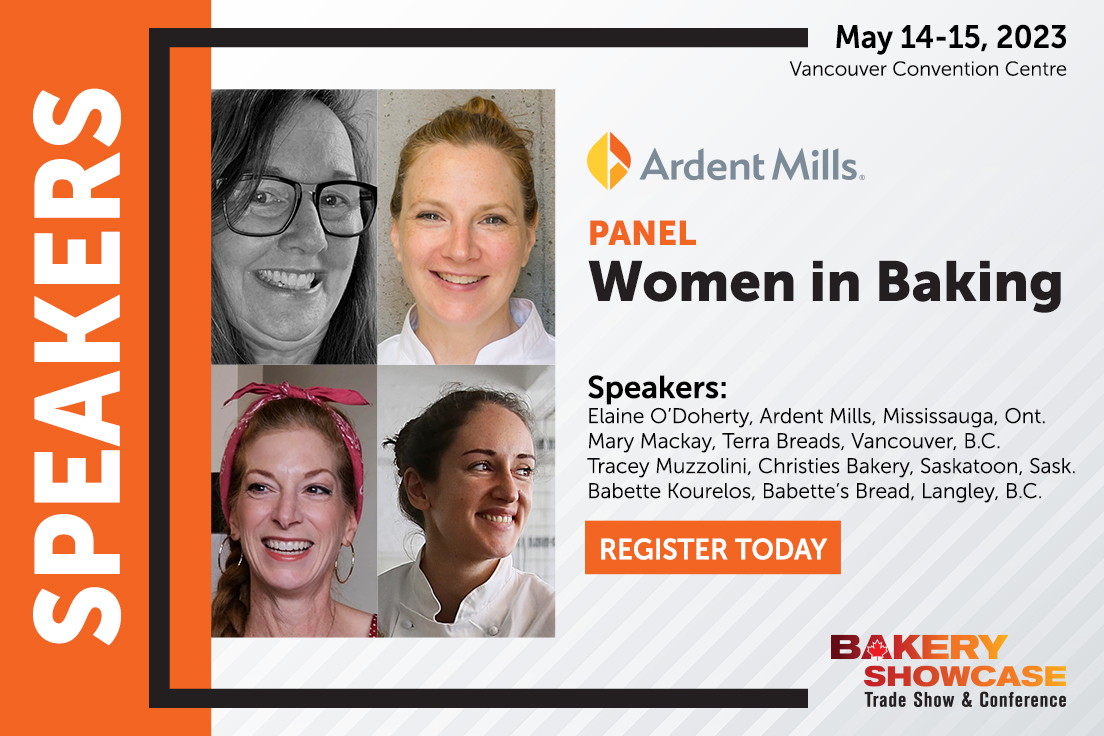 Bakery Showcase May 14-15 in Vancouver is coming up fast. Don't miss our exciting, engaging Women in Baking panel sponsored by Ardent Mills, which will kick off our celebration of Mother's Day!
Day 1 of Bakery Showcase is Mother's Day. To honour moms everywhere, we will celebrate three successful women who lead in the dynamic baking industry. As part of our panel, enjoy and benefit from stories from and about baking professionals who took initiative, started a business and are leading lights among their teams, communities and peers! Ask questions and find inspiration to take back to your own bakery business!
Elaine O'Doherty is the marketing lead for Ardent Mills Canada where her role is to deliver consistent value to customers, drive brand awareness, and build and execute strategic plans that will help provide nutritious grain based and plant-forward solutions for customers and consumers. Elaine is an experienced marketing leader with a history of working in the food industry across commercial, foodservice and consumer packaged goods. She joined Ardent Mills from Cargill where she led commercial and food-service marketing for Canada. Over nearly 20 years Elaine held positions at Smucker Foods of Canada, Robin Hood Multifoods and other CPG companies. Elaine holds an HBA in economics and business from York University.
Babette Kourelos is owner of Babette's Bread in Langley, B.C. She was born in South Africa and is of Afrikaans, Greek and Italian descent. She holds BA and LLB degrees from the University of the Witwatersrand in Johannesburg. Babette travelled to Vermont to apprentice under the late French Master Baker Gerard Rubaud and ran her own artisan bread bakery and studio in Johannesburg for several years before relocating to Canada in 2020. She has introduced hundreds of beginner bakers to bread baking and has been featured in numerous publications. Babette served as a judge at the Tiptree World Bread Awards in 2022. Her debut bread cookbook is due for release in Canada and the U.S. in 2024.
Mary Mackay is the co-owner and vice-president of innovation at Terra Breads, where she has led the team since the bakery's establishment 30 years ago. She graduated culinary training at the Dubrulle French Culinary School in 1987 and has worked in restaurants and bakeries for 40 years. Terra Breads was one of the first bakeries to offer customers a behind-the-scenes look at how the products are mixed, shaped and baked. Mary has a longstanding involvement in several community organizations, including Les Dames d'Escoffier, Chefs Table Society and Better Together, a neighbourhood-based pilot that works to solve issues related to poverty, unsheltered homelessness and mental health.
Tracey Muzzolini and brother Blair took over Christies Bakery in Saskatoon in 1999 from their parents Ennio and Janet and expanded to open Il Secondo, a successful bakery-bistro featuring a wood-fired pizza oven. In addition to overseeing and successfully steering Christies into the future, Tracey is a world-class competitor. After learning from world-class bakers at the Bread Bakers Guild of America, Tracey competed in the category of "Baguette and Specialty Bread" with Team Canada in 2007, for the Coupe du Monde de la Boulangerie. In 2022, she served as a judge on The Food Network's Wall of Bakers, encouraging novice bakers.
Women in Baking
Session Room A, Sunday, May 14, 11 a.m. to 12 noon
Be sure to check out other sessions celebrating talented women bakers: A Conversation with Great Canadian Baking Show Finalist Zola Thawer, Vancouver Community College instructors Leanne Bentley and Nav Sidhu on the demo stage, Winnipeg's award-winning chef Diana Cline infusing pizza crust with beer, Women in Pizza: Canada Edition and Mother's Day Celebration Student Cake-Decorating Competition sponsored by Dawn.
---
Print this page