Products
New S500 dough improvers promote uniformity
November 13, 2017 By Bakers Journal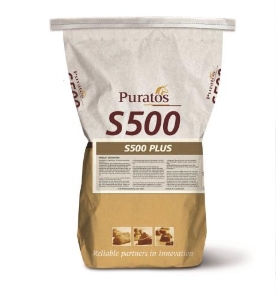 Puratos has updated its S500 bread improver to provide greater dough tolerance and consistent quality through a variety of processes.
Enriched with Puratos' patented enzyme technology, the new S500 can be used in any bread application and in many process conditions. The new range of improvers includes S500, S500 clean label, S500 Industrial clean label and S500 Plus with additional freshness enzymes.
The improvers are based on Puratos' patented xylanase technology obtained from specific micro-organisms discovered in Antarctica. They provide additional dough tolerance and greater security for bakers and can now be used in all bread applications, including crusty bread, rolls, loaf breads, whole meal, soft breads and laminated products.
S500 also offers security during direct, retarded, long fermentation or short freezing processes. Products are consistent, regardless of flour variety, mixing, dough handling, equipment, fermentation or environment conditions.
S500 is designed to give bakers the same quality output with every bake. With no need to worry about different conditions or flour quality, bakers can concentrate on taste and presentation.
Puratos performs ongoing quality tests against the competition with an eye to providing greater dough tolerance and increased machinability, overcoming any variations in flour quality, and offering consistent shape and outstanding volume.
The company has four Canadian S500 products:
·      S500, a high quality multi-purpose dough improver in powder form
·      S500 CL, a clean-label version of the high-quality, multi-purpose improver
·      S500 Industrial CL, clean-label, multi-purpose improvers designed specifically for automated lines
·      S500 Plus, a high-quality, multi-purpose improver with additional freshness enzyme that allows the crumb to stay moist and fresher over time
---
Print this page