Uncategorized Breads Recipes
Baker's Formula: Christmas Stollen with Raisin Paste
November 18, 2020 By Raisin Administrative Committee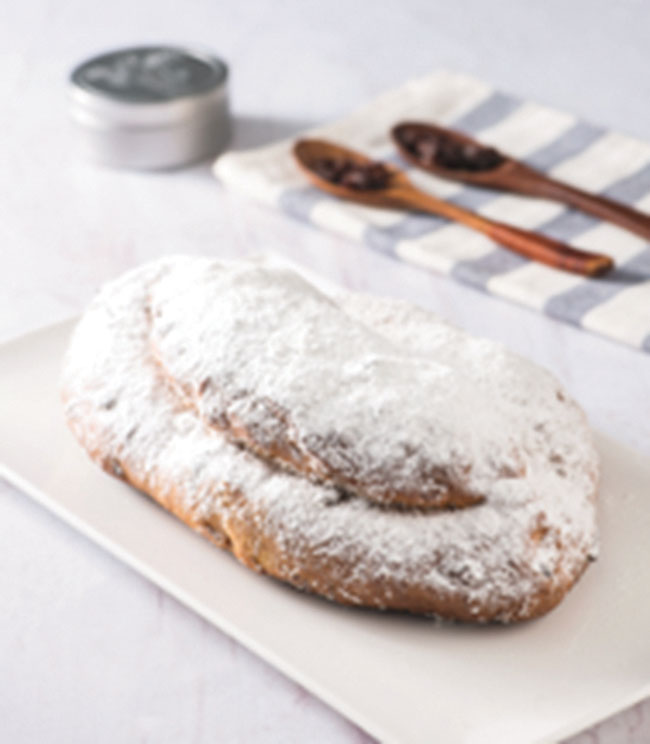 Fruit mix:
Ingredients   – Metric Grams Comments
Yield – 6 Stollen
California Golden Raisins 785 g
Orange, candied 200 g
Lemon, candied 100 g
Cherries, glazed 150 g
Almonds, slivered roasted 300 g
Rum, dark 210 ml
Rum, extract 6 g
Lemon, zest 20 g
Bitter almond essence 5 g
Total 1776 g
Sponge:
Ingredients   – Metric Grams Comments
Yeast, compressed 225 g alternatively 75 g instant yeast can be used
Milk 785 ml
Flour, pastry 1010 g protein content 8-9 %
Total 2020 g
Spice mix:
Ingredients –  Metric Grams Comments
Cinnamon, ground 2.5 g
Anise seed, ground 2.5 g
Coriander, ground 2.5 g
Cloves, ground 2.5 g
All-spice, ground 2.5 g
Cardamom, ground 2.5 g
Nutmeg, ground 2.5 g
Black pepper, ground 2.5 g
Total 20 g
Dough:
Ingredients Metric Grams Comments
Fruit mix  1776 g from above
Sponge 2020 g from above
Flour, bread 1565 g protein content 12-14 %
Eggs, whole 365 ml
Sugar, granulated 225 g
Salt 28 g
Spice mix 20 g from above
Butter, unsalted 670 g softened
Raisin paste 600 g to be used as filling or smear
Total 7269 g
Glazing:
Ingredients Metric Grams Comments
Butter, unsalted 453 g clarified and melted, see note #1 below
Sugar, vanilla as needed see note #2 below
Sugar, powdered as needed see note #3 below
Total 453 g
Fruit mix: Roast the almonds and allow plenty time to cool. Combine all ingredients in a large bowl and mix with a wooden spoon. Cover and place in a warm place, stirring every two hours, until all the liquid is completely absorbed.
Sponge: Warm the milk to not more than 25°C and dissolve the yeast in the milk. Add the flour and work into a wet dough. Place the remaining flour on top of the sponge and rest in a warm place until the sponge rises to about three times its original size and breaks through the flour.
Dough: To prepare the final dough, combine all remaining ingredients except the soft butter and fruits in a mixing bowl. Using a dough hook, mix the dough in first gear for three minutes. Stop the mixer and scrape down the side of the bowl. The dough will appear dry at this point. Shift to third gear and mix for additional 8 minutes, gradually adding the soft butter until you have a well-developed elastic dough. Return to first gear and add the fruit mixture, carefully blending without destroying the fruits. After mixing the dough temperature should be ideally 21°C. Allow the dough to bulk ferment for 30 minutes. Cover the dough to prevent the surface from drying out, avoiding an "elephant skin". Apply two 3-folds (envelope folds), one in each direction, gently pressing the dough down. This will release the gases and supplies the yeast with new food. Repeat this step three more times, allowing the dough to rest 20 minutes each time.
After the third cycle is completed use a balance beam scale and divide the dough into 430 g pieces. Round the dough pieces, and allow the dough to bench rest for five minutes at room temperature, keeping the dough covered at all times, before rolling them to about 15 cm in length. Then, place a rolling pin lengthwise into the center of the dough log. Press firmly and roll the pin to stretch the piece into an oval that has two thick ends. When the desired proportion has been achieved, add the raisin paste in the center of the dough. Fold over one end so it rests just below the opposite end, forming two rims. Place the stollen on a parchment-lined sheet pan, and cover with a plastic. Alternatively, after shaping the dough into an oval, smear the raisin paste all over the dough and proceed to the folding of the Stollen. Proof at room temperature for about twenty minutes. Remove the plastic and gently compress the edges of the stollen with a rolling pin, be careful not to damage the rim. Bake without delay at 182°C for about 20-25 minutes, until they are light golden brown with an internal temperature of 82°C. Remove the stollen from the sheet pan onto a cooling rack.
Glazing: Brush the stollen immediately with the melted clarified butter, while the stollen is still hot. Multiple applications will be required to use all the butter, so be patient. When the stollen is cool, roll them in vanilla sugar and then dust them with powdered sugar.
Baker's Notes:
Clarified butter is also called drawn butter. Simply defined, clarified butter is unsalted butter that has the milk solids and water removed so all that remains, is pure liquid golden-yellow butterfat. The advantages of this type of butter are its long keeping quality (several months refrigerated) and its high smoke point (can be used in frying without burning).
Vanilla sugar: Use "leftover" vanilla beans from other applications Bury beans in an airtight container, cover with granulated sugar and seal tightly. Use after a few weeks of infusion.
Powder sugar tend to dissolve when frozen, hawed, chilled, wrapped or in high humidity conditions. Products like "sweet snow" or "snow sugar" are made from dextrose rather than sucrose, which encapsulated to stop it from dissolving when used for
dusting Stollen.
---
Print this page